Retirement Planning: Will you be prepared?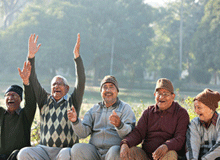 Life after retirement is concern for all. Everyone wants to live a happy & contented life. In India only 9% of population are covered from any formal social security in the form of old age income protection. So there is major part of population which is not covered from any social security schemes.The life expectancy has also increased with the advancement of medical facilities. So all these factors made people think of post retirement life. Retirement planning should be done in early years so that an adequate corpus is formed and can be utilized for living a contended post retirement life.
Steps in successful retirement planning
How much is your current yearly expenses.
Calculate how much income you would need each year post retirement factoring inflation into account.
Ideally consider 80% of your current income for post-retirement years.
Calculate retirement corpus you would need at retirement at present cost.
Determine how much you have already saved for retirement.
Calculate the shortfall in your retirement corpus.
Calculate how much you should save per month to fund your retirement expenses.
Determine your optimal investment vehicles and begin saving now.